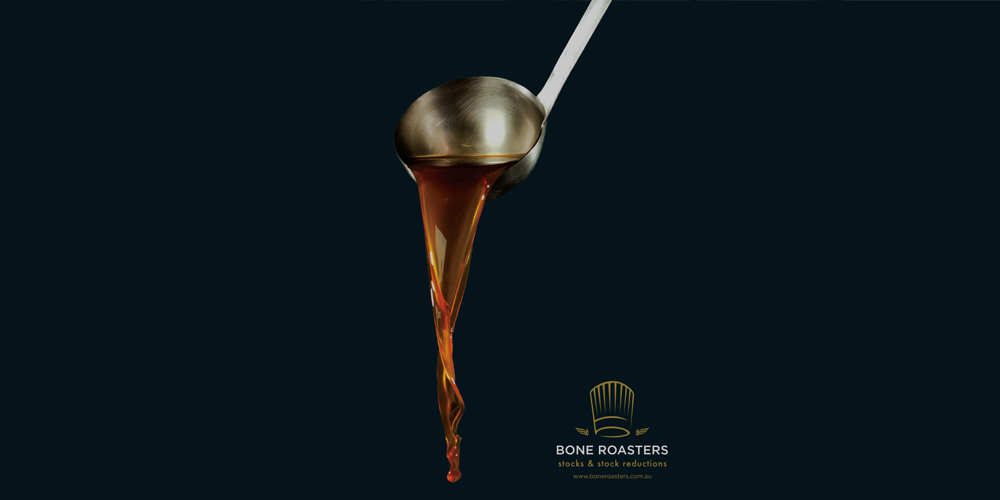 The Bone Roasters Product Range offers you Quality without Compromise
Because you know how to make a stock properly you also know it's a lot of work.
All of and jus products are designed for today's modern, fast paced kitchens.
In 2007, after working for more than 25 years as a chef in Europe and the USA, the last 5 as Executive Chef of the Grundy Group of Companies, Conrad Brown returned home to Australia and started Bone Roasters.
From day one Bone Roasters' mission has been to produce stocks and stock reductions that are consistent, high quality, all natural and cost effective for the busy kitchen. We also listen to what chefs have to say and make stocks to suit their varying needs.
VEAL STOCK (15 Brix)
15 Brix – 4×2.5kg bags per carton (10kg)
This is our first draw stock slow simmered and passed through a fine strainer. This is a clean and clear brown Veal stock with absolutely no colourings or additives.
HALAL PRODUCT
VEAL GLACE (30 Brix)
30 Brix – 4×2.5kg bags per carton (10kg)
This product is again a further reduction from the 25 brix product and is much deeper in colour, and ready for use in all your sauces.
HALAL PRODUCT