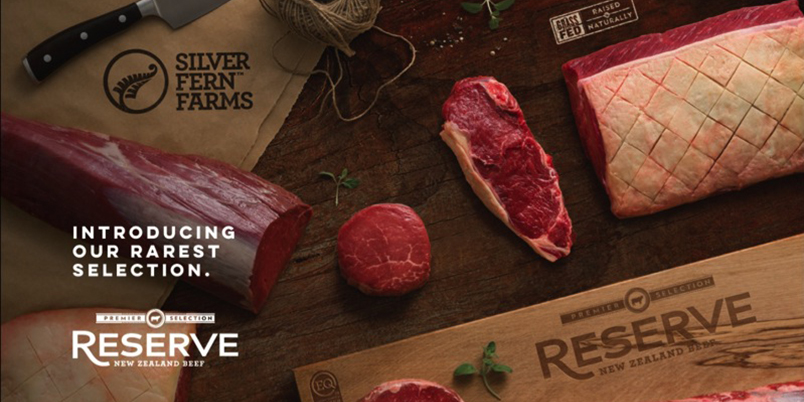 Silver Fern Farms aims to create the world's best red meat experiences for everyone to share. Their restaurant-quality lamb and beef cuts are consistently juicy and tender, ensuring that you are provided with the best quality meat every time. At every step of the journey, the highest level of care is taken to make sure the lamb and beef you get from Silver Fern Farms is the best it can be.
Silver Fern Farms is New Zealand's leading processor, marketer and exporter of premium quality lamb, beef, venison and associated products, exporting to about 60 countries around the world, including key markets in North America, the United Kingdom and Europe, Asia and Middle East. Silver Fern Farms is a proud farmer co-operative representing over 16,000 sheep, cattle and deer farmer-shareholders throughout New Zealand.. Silver Fern Farms operates 19 processing facilities, employing 7,000 staff in the peak of the season.
Silver Fern Farms beef and lamb are:
– 100% grass-fed on lush, green pastures
– raised as nature intended, roaming freely on open fields
– all natural with no added growth hormones
– Halal certified

Key programs include:
SILVER FERN FARMS NATURAL GRASS-FED BEEF
SILVER FERN FARMS NATURAL GRASS-FED GRADED RESERVE BEEF
SILVER FERN FARMS NATURAL GRASS-FED LAMB
SILERE ALPINE ORIGIN MERINO LAMB
Silver Fern Farms stakes its reputation every day on its products. To ensure that they live up to the New Zealand pedigree of quality taste and health, all production is undertaken using the latest processing technologies and operates under very strict hygiene conditions. Quality control checks are maintained at all stages of production, storage and distribution to ensure the product reaches the market in pristine condition.